The Donek Tools Drag Knife can be used to cut almost anything you would cut with a utility knife, but with the speed and precision of a CNC router.
The drag knife fits into your CNC router's 1/2 in. router or spindle collet, making it a universal fit for almost any CNC router available. The tools were designed to use a utility knife blade (though a specific type) which dramatically reduces the cost of consumable blades.
Donek Drag Knives are being used in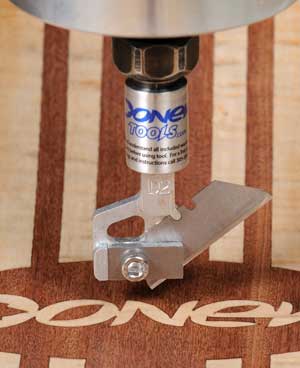 industry and by Hobbyists to cut snowboard and ski base materials, wood veneer for inlay/marquetry artwork, leather, carbon fiber prepreg laminates for aerospace, military, and automotive components, cardboard for custom packaging, and much more. Whether you want to perform delicate veneer inlay work or cut out cardboard boxes with your CNC router, Donek Tools has a tool right for the job.
Tools with 1/4 in. shanks for some smaller CNC machines are under development and will be available soon.
Tools with a custom Shank size may be possible to make as a special order.  Send us an e-mail or give us a call to inquire further
We offer two different models:
D1 & D3 Drag Knife for CNC routers
Our D1 Drag Knife is optimized for detailed work in thinner materials with a depth of cut from 0.010 in. to 0.0625 in. (1/16 in.) thick. Curved cuts as small as 1/16 in. radius are possible with this tool.
D2 & D4 Drag Knife for CNC routers
Our D2 Drag Knife can handle thicker materials from 0.010 in. up to 0.250 in. (1/4 in.) thick. Curved cuts as small as 1/8 in. radius can be made with this tool.
Patent Pending